14/10/2016
Introducing the Newlyweds: Kathryn Trout & Douglas Ackerman
Kathryn (Katie) O'Brien Trout met Douglas (Doug) Martin Ackerman at the wedding of some mutual friends, not knowing, one day, the celebration would be for them. "We met again a couple of years later at a charity event and went on our first date," Katie says. "I soon [went] to Rome to witness the papal conclave, where Pope Francis was elected. Doug and I racked up a huge phone bill across the ocean."
She knew from that initial separation Doug might be the one to change everything. "The first time I met Katie, I had to get to know her better," Doug says. "She gave me that special feeling I have been looking for all my life."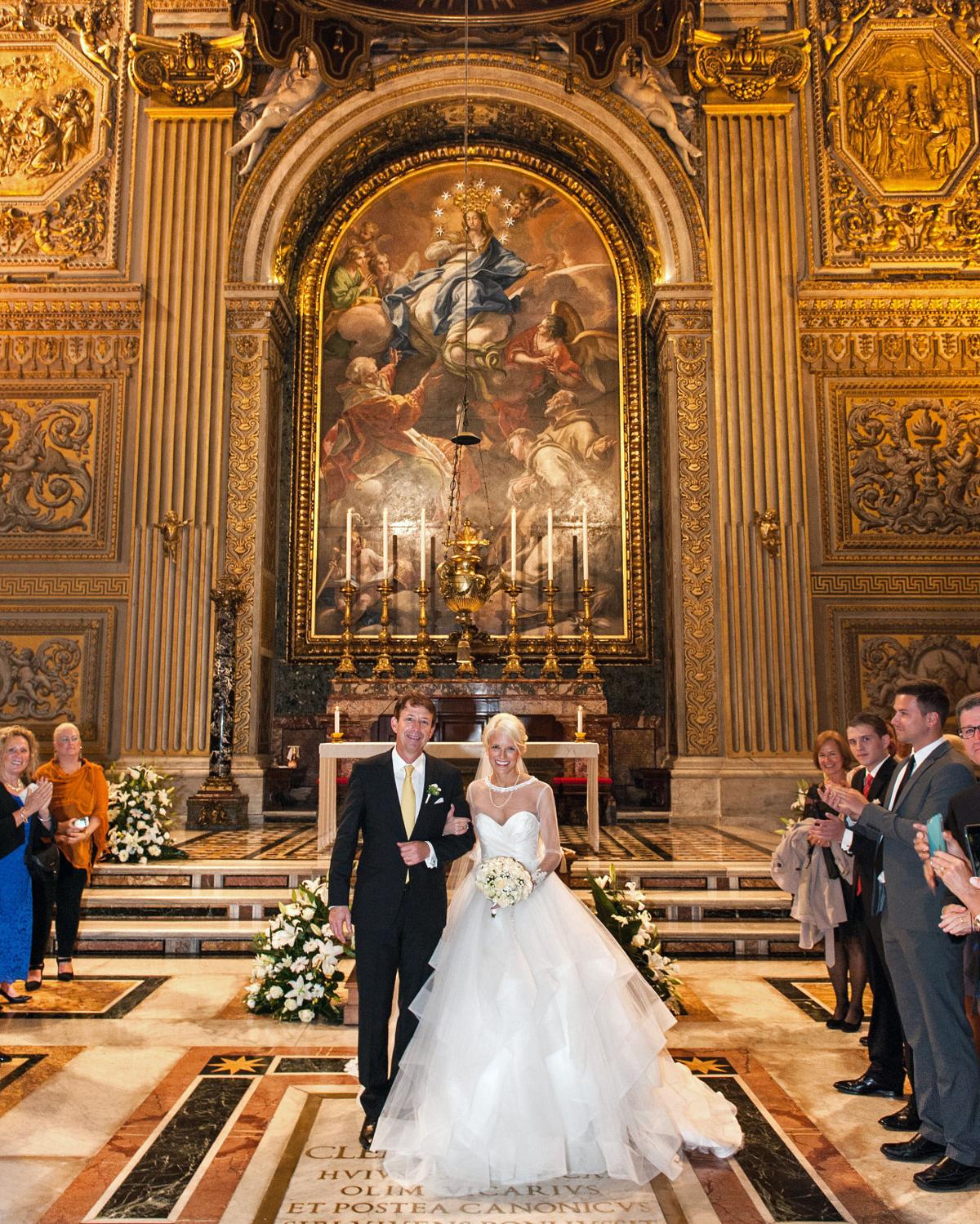 Read more: http://www.sheindressau.com/wedding-dresses
The next step seemed natural. With a ready excuse to take them to the Windy City, he set out to plan a proposal. "There is a charming Italian restaurant she loves; I knew that would be the place. All I had to do was book a nice place to stay, fuel the plane – and let Chicago do the rest," Doug tells. Caught by surprise, Katie said yes through blinding tears.
The wedding represented the three pillars of their lives. "We wanted to incorporate faith, family and friends," she says. "We knew the wedding needed to be in Rome, where our love story began. Thanks to my family's dear friend, His Eminence Justin Cardinal Rigali, we got married inside St. Peter's Basilica, which has always been a dream of mine."
The bride honored Doug's deceased mother, alongside her own, by bearing their school pins on her bouquet. She also carried a rosary, gifted by her matron of honor and grandmother. "I took a long walk, with the Swiss Guard escorting and holding tourists back, to the chapel. The 'Wedding March,' which is no longer allowed to be played in the states, swelled from the organ," Katie recalls. "I saw Doug face-to-face for the first time that day, and my heart skipped. It all got very real at that moment."
Doug experienced a similar sensation upon seeing his bride across the aisle. "I cherished the sight of the most beautiful woman in the world, standing in the middle of St. Peter's Basilica – ready to marry me – and the overwhelming presence of God," he says. "It was like we were in a fairy tale."
The celebrations continued with a luncheon at their Italian hotel and, again, in St. Louis at the Racquet Club Ladue. The couple honeymooned in Tuscany and Portofino.
Read more:http://www.sheindressau.com/tea-length-wedding-dresses-au