02/02/2016
A Valentine's Love Story
One day last year, I was sitting on my couch watching TV when I caught a glimpse of my wedding photos. Every time I look at them, all the amazing moments of that day rush back to me. But then it hit me... it hit me that my love story began three years before my wedding day. Those three years prior to my wedding encompassed all the reasons why I had said "I do."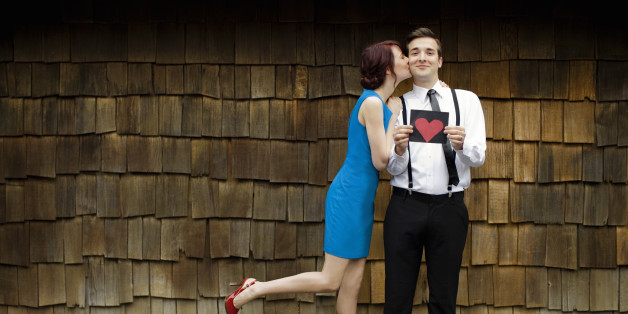 I began to do some research to see if anyone was out there helping couples document their love stories and I couldn't find a single person! Then as I told my mom my idea, she remembered an old newspaper clipping of my late grandparents' love story. A local reporter for their hometown newspaper was seeking love stories for a Valentine's Day feature and my grandparents were among a lucky few chosen to have their love story documented.
Related: tea length wedding dresses
As I read their love story, I learned new details about their relationship that I had never known. My grandpa proposed to my grandma after just two weeks!
I couldn't help but wonder why couples weren't offered the opportunity to document their love story. Like a wedding dress is to the wedding day, why wasn't a couple's love story a major aspect to their everyday life?
So now I write the love stories of everyday couples. And with Valentine's Day only a few weeks away, it's the perfect time to share some real life love stories that make this world tick.
Clueless to Convinced
She confessed that she usually tells a little white lie when people ask her to name her favorite movie, but in reality it would be something like... "Clueless," he guessed. Stunned, she nodded her head favorably in disbelief that he knew exactly what she was thinking.
They had been talking for hours now at Dos Taquitos in Raleigh, North Carolina. Even the waitress commented that they made a cute couple. But this was only their first date. Several hours before, Staci put on her first date attire, a sun dress with parrots on it, and headed out to meet her date for the evening, a podiatrist in the Navy named Joe.
They had officially met on Match.com several weeks prior, but Joe noticed Staci a full six months before they began talking. He winked at her in the fall of 2013, but she ignored his initial gesture. He decided to give it another try that spring and this time, he caught Staci's eye.
"He was very cute and looked fun," she said. "He had goofy pictures and liked some of the same music I did, but there were red flags too. He was in the Navy, politically we weren't on the same page and he lived in Fayetteville, a 45-minute drive from my home in Raleigh."
Despite her uneasiness, they began conversing, first on Match through email and then on the phone. Admittedly, Staci isn't a big phone talker, but to her surprise three hours passed in no time and they had cemented a commitment for their first date.
Even though he was unfamiliar with Raleigh, Joe took on the planning for their March 22, 2014 first date. They decided on meeting at NC State, Staci's alma mater. She had a class there beforehand and they thought it would be fun to do a tour of the campus. After all, both her and Joe had been campus tour guides during their college years.
The tour ended at Tally Student Center where they sat and talked for another 45 minutes before deciding to move onto the next stop of Joe's well-planned date. He picked a restaurant called Centro in Downtown Raleigh for dinner. While on the drive there, Staci told him he was going the wrong way. Joe knew that he was headed in the right direction, but regardless, he let Staci navigate them to her favorite Mexican spot, Dos Taquitos, anyway. Their date ended around midnight after a nightcap at Hibernian Irish Pub and Joe drove Staci back to her car. They hugged and said goodnight.
As she was driving away, Staci realized she had something of Joe's. Earlier that night, he had let her borrow his watch and never got it back. Staci ran to Joe's car to give it to him when he said, "Dang, I was going to use that to get a second date!"
With the rose he gave to her on the passenger seat, she drove off feeling warm and fuzzy inside.
Days after the first date, Staci was torn. She felt a strong connection with Joe. Their conversation flowed easily. It was almost like they could finish each other's sentences, but her initial unease with his military lifestyle grew even stronger. They had discussed what a life in the military would mean for Staci -- her curiosity became too overwhelming not to discuss, even if it were just the first date. She found out that he'd be moving in October 2015. For Staci, moving out of Raleigh seemed completely unfathomable. Her friends, her family, her whole life was there.
As she pondered whether dating Joe made sense, the rose he gave to her on their first date was now starting to wilt. She couldn't bring herself to throw it away so she placed it in the freezer. She couldn't help that her heart and her head were sending mixed signals.
Staci accepted a second date with Joe. But it didn't go as well as the first. She woke up that morning feeling sick, but decided not to cancel. They met at Chow for trivia night and things didn't get any better. She had given up beer for lent so she had to order wine at a beer bar and to make matters worse, she ran into several people she knew, but felt uncomfortable introducing Joe to her friends on their second date.
"It was a awful," Staci admitted. "At the end of the date, I didn't want him to kiss me because I was feeling so terrible. I backed away from him and said, 'see you later' with a punch."
A couple days later, Staci texted Joe and asked him for a third date, regretting how things had ended previously. Unfortunately, he was on call the next weekend. Not deterred, Staci said she'd be happy to meet him in Fayetteville and that weekend they ate BBQ and watched Despicable Me. The movie ended not long before midnight and Staci had to head back to Raleigh.
"Joe, are you going to make me kiss you?," she said boldly, needing to find out if he could be more than a friend. Then he leaned in for the kiss. The kiss solidified everything for Staci. She was smitten and decided to give this relationship a chance. On their fourth date at Fullsteam Brewery, the couple drew a map on their whiteboard bar top and dreamed about their future together.
Weeks later, Joe asked Staci to come with him to his hometown of Pittsburgh and be his date to a wedding of a friend of his from podiatry school. For Joe, this trip would become the most defining moment in their relationship to date.
Set to fly out of RDU on one of the last flights that evening, Joe and Staci headed to the airport, but with a big storm on the horizon, their flight was delayed until the next morning and they needed to fly out that night. Under a stressful situation, Joe and Staci remained calm, assessed the situation and decided to drive to Charlotte and catch a flight from there.
"I really appreciated how cool and calm Staci was," Joe said. "We were very much in control of the situation together. It meant a lot to me how she was able to roll with it and we could deal with a stressful situation with ease."
At Joe's Pittsburgh home, Staci fit in like a charm. She sat on the porch talking to Mrs. "M" like they had done it a thousand times before. Dr. "M" served drinks while everyone enjoyed each other's company. Later that evening, Joe and Staci attended the wedding reception (they had missed the ceremony because of the flight delay), but Joe forgot to RSVP for Staci. Luckily, someone else's date cancelled at the same table where Joe was seated and a potentially awkward situation turned out to be another sign that Joe and Staci were meant to be.
The return car ride home from the Charlotte airport was an emotional trip. It was June 15, evaluation day. They both put it all on the table and attempted to answer the "is this going somewhere" question. Pulling into Staci's driveway, with tears flowing down her cheeks, the fear of the unknown was getting to her. It was then that Joe leaned over and whispered those three little words, "I love you."
********
"We have to watch the sunrise," Joe said to Staci after returning from the black tie gala New Year's Eve celebration on the USS Yorktown. They were at the beach in Isle of Palms near Charleston at Joe's family's condo. "It's good luck to see the sunrise on the first day of the year."
Joe got up 0700 on New Year's Day to the sound of his alarm, made coffee and dragged Staci out of bed. She wasn't too inspired to get up that early, but he eventually convinced her and they found a place on the beach to watch the sunrise.
He turned to her and said, "I could get used to watching the sunrise with you every day." Staci returned the nice sentiment, "Me too." Then he looked into her eyes and asked, "Should we make this official?"
Without even seeing the ring Staci said, "Yes, yes, yes!" He pulled out the ring and Staci started crying but managed to say, "You have to put it on my finger!"
They took some time, just the two of them, to walk on the beach and enjoy their new engagement. A couple hours later, they called their family and friends and immediately began brainstorming about their upcoming wedding.
More info: casual wedding dresses