09/12/2014
Plan like a wedding pro: Start by setting priorities, budget
A wedding professional plans her own wedding.
No sweat, Emily Schwartz thought shortly after her boyfriend popped the question this spring.
By day, after all, she's the in-house event coordinator for Bonanno Concepts, responsible for working with engaged couples to make their wedding-reception dreams come true at Mizuna, Luca D'Italia and the other restaurants owned by Chef Frank Bonanno.
By night and weekend, she is a professional day-of wedding coordinator on the side — not to mention a bridesmaid a dozen times over.
"When I got engaged, I was like, 'I got this,' " Schwartz said. "When I started diving into it, I was like, 'This is a ton of work.' "
Even the professionals have to make tough wedding-planning decisions.
For nearly all engaged couples — all of us without boundless financial resources — wedding planning really ought to start out on a not-so-romantic note: setting priorities and a realistic budget, Schwartz explained over coffee on a recent morning.
"Our budget is not bottomless — it's definitely something I have to be conscious about," Schwartz said. "I'm constantly thinking about, 'Will this go into the budget? How will it affect it? If I book this photographer for more than I'm allowing, what will I take out in its place?'
"It's so easy to just let the small things add up."
Schwartz's own wedding story begins in March with the proposal.
She and her boyfriend of six years, Jason McCormick, were in New York City when it happened.
picture: SheinDressAU
"I knew it was coming. I knew we were going to get engaged, but I had no idea it was coming at that point," she said. "It was a complete surprise. It was amazing."
The planning started with the budget talk.
Schwartz and her fiance intend to plan the wedding themselves, with some professional help on their wedding day in the form of a day-of coordinator.
Their anticipated budget is $15,000-$20,000 — a figure below the national average but close to the median.
( Slate illustrated the difference in an article last summer: The Knot.com reported the average wedding in 2012 cost $27,427. The median was $18,086.)
"A lot of people may set budgets that are a little bit outside their reach, just because they have this dream wedding that's very extravagant," Schwartz said. "But setting a really realistic budget is important. You can do a lot with any budget."
"You should be able to have a really good day," she said, "but you don't want to put yourself into debt for your wedding."
Early on, the couple also talked priorities. Atop the list was venue and food.
The venue, for one, had to be big enough to accommodate 250-300 loved ones.
Schwartz comes from a large Italian family and McCormick a fairly large Irish family, and cutting the number of guests to fit a venue, they decided, was not an option.
The venue also had to allow them to bring in a caterer they felt comfortable with and have room enough for a ceremony, cocktail hour and reception in one location.
The last caveat was a big one — the site had to include some of the typical wedding rentals in its fee upfront, to free up money for their other top priority, food.
(For food-focused couples, restaurants can be a great, nontraditional option in this regard, Schwartz said — the initial price tag for a buy-out may seem high, but everything but a photographer, wedding cake, florist and DJ is included.)
"The venue was important, and so was the food," Schwartz said. "It was important that I found a venue that came fully stocked — tables, chairs, silverware, glasses, linens, a lot of the rentals that can eat up your budget if your venue is a blank slate."
Once they had their budget and priorities in place, it was time to start venue shopping.
Before they found "the one," Schwartz and McCormick looked at 15-20 different venues. They toured the three finalists with Schwartz's mother.
"There were some amazing places we looked at, open blank rooms and really cool spots where you have to bring in everything, but that adds up really quickly," Schwartz said.
Their final choice, Lionsgate Events Center in Lafayette, checked all the boxes on their list, she said.
For their wedding date, they chose Sept. 6, 2015, the Sunday of Labor Day weekend. Initially, they hoped choosing a less popular day of the week would mean savings, Schwartz said, but the holiday weekend made it a wash.
A great way to approach venue shopping, though, is being flexible on your date, Schwartz said.
"Venues book so quickly, it's crazy," she said. "Sometimes, picking your date is not as important as finding the venue that's going to work for you."
Having a set list of priorities has also helped guide many of the other decisions the couple has made.
Take the bar service.
In a trade-off, they've decided that only beer and wine will be served at the reception, instead of a full bar, at a considerable savings, Schwartz said.
"We wanted to focus more of our budget on the food," Schwartz said. "I would love to be able to do both, but sometimes you have to pick what's more important."
For dessert, a good friend — and bridesmaid — has her own bakery. To cut costs, Schwartz said, the plan is for her to create a small, fancy display cake and then have larger cakes cut by the caterer in the back. Her family is also planning to bake a ton of Italian cookies themselves.
Schwartz's top planning tip, however, fits any budget.
"It's so easy for the bride and groom to start trying to please everyone and forget about what makes them happy," Schwartz said. "This is about the two of you — and everyone else is just icing on the cake."
"It's about you making a decision to enjoy the rest of your lives together," she said. "Don't let the little things get in the way of remembering that that's what this is all about."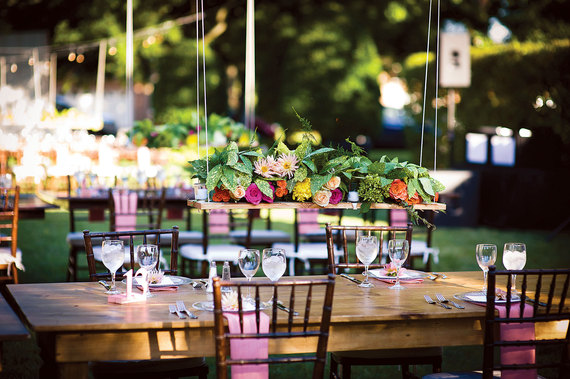 Where the wedding pros turn (and click) for ideas
With thousand of wedding-related websites, blogs, books and magazines out there, searching for inspiration and good planning advice can be a bit overwhelming. So we asked the experts — the local wedding professionals featured in our MatriMoney series — to give us their top picks for wedding planning resources.
BOOKS
"A Practical Wedding: Creative Ideas for Planning a Beautiful, Affordable and Meaningful Celebration," by Meg Keene. "A Practical Wedding" is my favorite wedding book because it is 100 percent honest about how to make the wedding about you as a couple and not about anyone else or what wedding blogs or other books push on you. It's fun to fantasize about all the lovely things you'd like at your wedding, but when the day actually comes and you are looking at quotes/contracts and real hard costs, maybe the miniature horses dressed up as little unicorns are too much, despite the fact that your sister-in-law-to-be insists you should have them. — Lauren Smith, owner of Hourglass Productions
"Preston Bailey Celebrations" by Preston Bailey. Preston Bailey is especially talented at monochromatic color and large-scale design. His concepts are a treat for the eye and a wonderful inspiration for our couples. We work with them to find ideas that can be scaled to their budget and event. — Kerri Butler, owner of A Touch of Bliss
WEBSITES AND APPS
Green Wedding Shoes, greenweddingshoes.com. I love Green Wedding Shoes. They feature fresh, modern and creative weddings; it's just full of inspiration for all types of brides. Additionally, their carefully curated list of vendors and advertisers is like a one-stop shop for couples looking for professionals in their area and beyond. — Nicole Lowery, co-owner of Hey Party Collective
Instagram. What did we do before Instagram? Not only is it our No. 1 spot for inspiration, next to Pinterest, we use it daily. We follow our local peers and colleagues and also many of the top wedding industry professionals around the country and world and get to see daily inspiration from them. We also follow national blogs and magazines outside of the wedding industry as well as restaurants, designers and news sources for tips and trends in style, fashion and food. Because it's one photo in a small paragraph, it's easy to quickly get inspired and look at multiple sources in one sitting. It's also extremely addicting. — Heather Dwight, owner of Calluna Events
The Knot, theknot.com. The Knot is one of the most comprehensive resources out there — it's a "one-stop shop" for brides, giving them access to a local directory of vendors from DJs to florists to photographers. ...The Knot gives brides who sign up with them (there is no charge for creating an account) a free wedding webpage and a budget planner that gives brides the average costs for all their wedding-related expenses. Brides can enter actual expenses to track how they are doing. The Knot also has the best wedding discussion boards on the web, especially if brides have questions and need feedback or advice. — Honey Ahijevych, owner of Seize the Day Event Planners
Pinterest, pinterest.com. Our favorite tool for wedding inspiration and design is Pinterest. ... Brides and grooms can create wedding "boards" where they "pin" images to a board. Each board can be used to create a certain feel or vibe for part of the wedding. For example, I can create a Pinterest board called "Rustic Mountain Wedding Inspiration." On that board, I can save images from Pinterest or from other websites that reflect that style of wedding. I would pin cakes, bouquets, centerpieces, bridesmaid gowns, invitations and more. Then I can use that board to show my style to all of the wedding professionals who are involved in my wedding. — Debbie Orwat, owner of Save the Date Events
read more: bridesmaid dresses