12/07/2014
Simple ways to save on your wedding
According to a 2012 report in Brides magazine, the average American couple spends just under $27,000 on their wedding.
While many couples find the cost of a wedding is well worth it, others would like to find ways to save so their big day isn't a budget-buster. Such savings aren't always easy to come by, especially for couples with a very distinctive picture in mind of what their wedding should be. However, even couples strongly committed to a certain wedding style might change their minds once they realize how much such a dream wedding will cost. For those couples as well as couples who simply want to save some money, the following are a few ideas to avoid busting your budget without venturing too far from your dream wedding.
* Trim the guest list. The guest list is perhaps the easiest place to begin saving money. Many reception halls will charge by the head, so consider if you really need to invite 150 guests or if 100 will do. When putting together the guest list, remove those candidates who would best be described as acquaintances. This can include coworkers with whom you don't socialize, as well as old college friends to whom you rarely speak. Distant cousins you haven't spoken to in years can also be cut from the list.
* Don't go overboard on the gown. Styles are ever-changing, so there's a strong chance brides won't be passing down their wedding gowns to their own daughters someday. What's popular now will likely seem outdated by the time your daughter walks down the aisle. Keep this in mind when shopping for a wedding dress, which can be made in the same design as the one you try on but with cheaper fabrics that are a fraction of the cost.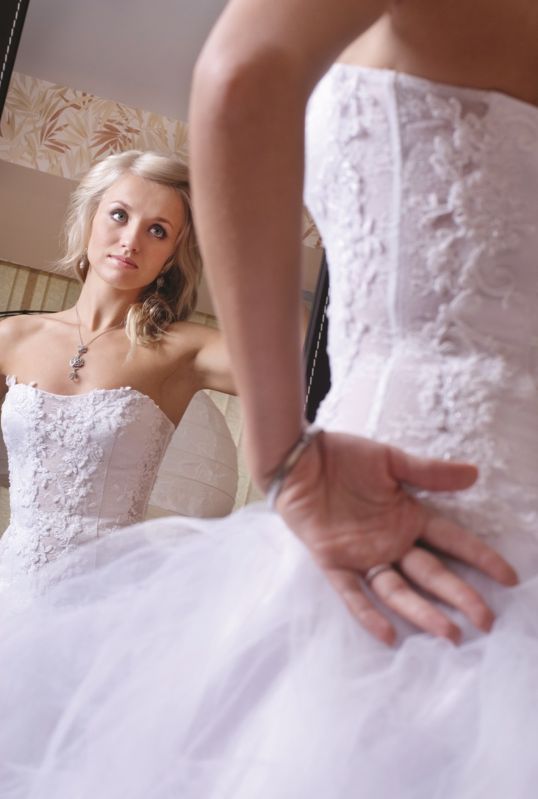 Pictures: simple wedding dresses
* Get hitched in the off-season. Many couples prefer to get married sometime between the months of May through October. During these months, venues and vendors, including limousine services, caterers, photographers, musicians, and deejays, are more expensive. If you are willing to switch your wedding date to the off-season you can save a substantial amount of money. In addition, you likely won't face as much competition for the best venues and vendors as you will during the peak wedding season.
* Trim your beverage budget. The bar tab at the end of the reception can be considerable, but there are ways to save money while ensuring your guests can still toast you and yours with a few libations. Rather than offering a full bar, limit the choices to beer and wine, which will be perfectly acceptable to most guests anyway. In addition, rather than paying the caterer for the wine, buy your own and you'll save a considerable amount of money. You may have to pay the caterer a fee to pour the wine, but that fee is negligible compared to what you'd pay the company to provide the wine.
* Choose a buffet-style dinner over waiter service. Many guests will no doubt prefer a buffet-style dinner instead of waiter service, so take advantage of that and choose a more affordable buffet-style dinner that allows diners to choose their own entrees and side dishes.
When it comes to trimming wedding costs, couples will have to make compromises. But those compromises don't have to come at the cost of a beautiful and memorable event.
See also: bridal dresses