28/04/2014
Catanzano Wedding
Anna Lauren Catanzano and Marcus Todd Holloway were married on Saturday, March 15, 2014 at 5 p.m. at Frost Chapel, Berry College.
The bride is the daughter of Steve and Elaine Catanzano of Rome. The groom is the son of Tim and Lynn Holloway of Rome.
The Rev. Tim Burnham performed the double-ring ceremony before an altar decorated with a rustic wooden cross, a handmade gift from the groom's grandfather, Ron Winslett. The chancel area included two black wrought iron candelabras with ivory tulle and ivy. A whitewashed wrought iron unity candle and ivy completed the altar. Chapel doors were adorned with burlap wreaths with ivory ribbon and wrought iron "H" monograms. Pews were embellished with ivory tulle, ivy and baby's breath tied with satin ivory ribbon.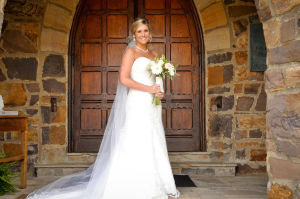 Source: bridesmaid dresses
A program of wedding music was provided by pianist Stan Pethel. Selections included "A Thousand Years," sung by vocalist Nicole Martin, "The Bridal Chorus" and "In Christ Alone," sung by vocalist Garrett Henderson. A scripture reading and prayer were provided by Jason Martin.
The honor attendants were cousins of the bride, Kendyl Guice Clark of Rome and Audrey Victoria Mason of Kennesaw. Bridesmaids included Ashley Bowen Holloway of Cartersville, sister in law of the groom; Amanda Parris of Anderson, S.C.; Ashlie Sizemore of Rome and Emily Newberry of Augusta. They wore floor length, one shoulder watermelon dresses of chiffon, cinched at the waist and silver jeweled earrings, gifts from the bride. They carried hand tied bouquets of cream roses, cream daisies, green hypernicum berries, pink mini carnations and seeded eucalyptus wrapped with ivory ribbon.
The flower girl, Kelsey Arp, wore an ivory satin and chiffon dress with a decorative chiffon bow accent.
The bride, given in marriage by her parents and escorted by her father, wore a strapless dress of ivory beaded embroidered lace with a fit and flare silhouette. The dress featured a sweetheart neckline and deep V-shape back with covered buttons. The fitted bodice of lace and beading faded to a scalloped lace hem and cascaded to a chapel length train which complimented her cathedral length veil. She carried a hand tied bouquet of ivory roses, pink Anna roses, cream gerber daisies, pink mini carnations, seeded eucalyptus and green hypernicum berries wrapped with ivory ribbon. As a special remembrance, the wedding rings of the bride's grandmother and grandfather were tied to her bouquet with matching ribbon.
Matt Holloway of Cartersville, brother of the groom, was the best man. Groomsmen included Tim Holloway, father of the groom, Ron Winslett, grandfather of the groom, Matt Catanzano, brother of the bride, and Trevor Roberts and Kyle Davis, all of Rome. They wore charcoal colored suits with black bow ties and black suspenders. They wore boutonnieres of apple green hypericum berries tied with ivory ribbon.
The ring bearer was Bowen Holloway, nephew of the groom, who wore a charcoal vest and pants, with matching bow tie. He was escorted down the aisle in a vintage wagon by the flower girl.
The groom wore a charcoal suit with a white bow tie and black suspenders. His boutonniere was apple green hypericum berries tied with ivory ribbon.
The mother of the bride wore a floor-length, one shouldered gown of black lace, accented with a peplum waist and black satin ribbon. The mother of the groom wore a cap sleeved floor length gown of champagne satin, embellished with champagne jewels at the neckline. Both mothers carried ivory long stemmed roses with matching ribbon.
Following the ceremony, a dinner reception was held in the Ford Dining Hall on the Berry College Campus. Refreshments included the bride's five-tier wedding cake with butter cream icing and cascading ivory embossed flowers. A miniature replica of the bride's bouquet adorned the top. The groom's table consisted of a chocolate chip cookie cake frosted with a fisherman's theme. Individual chocolate chip cookies were surrounded by various fishing paraphernalia and photographs of the bride and groom on their fishing adventures.
A memory table was included as a tribute to the bride's grandparents, Max Mason and Sarah Elizabeth Catanzano and the groom's grandfathers, Bill Beard and Joseph Holloway.
The evening before the wedding, the groom's parents hosted a rehearsal dinner in the Krannert Dining Hall on the Berry College campus.
After a Caribbean cruise, the couple will reside in Rome.
Read also: A-line wedding dresses